I am trying a new approach to details in this poem.



Posts

: 592


Join date

: 2011-05-21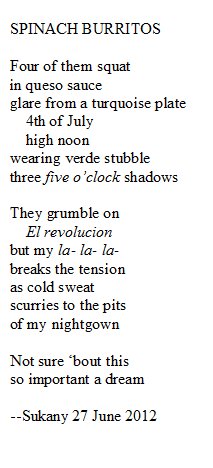 I'm thinking fireworks, showdown, cowboy stubble. : ) Spinach and verde: green tortillas. Mexican revolution. Spanish. Music. I like the images here and cold sweat (oxymoron). Not sure scurries fits this happening. Wonder if there might be a stronger verb that has some muscle to it. Do you need the last two lines? I'm thinking it may need to end with nightgown. Last two lines seem limp after the two stanzas above. I like your approach. Pat

dennis20

Guest



I'm captured!  I don't think I was until the last line. I see this dream-nightmare pictured at 3 am with bicarb in hand at the sink.  I wish I had been able to grasp it before you told me it was a dream.  BTW (by the way) the thing missing is the beer.  Insert the word Corona somewhere and it would be complete.   Sorry I'm late.
Very descriptive. I can see those burritos ate you alive. : ) And so important a dream makes me smile today. And guess what? I was up last night with a heartburn! Pat



Posts

: 592


Join date

: 2011-05-21

What about replacing "scurries" with "Coronas." I like the insertion of alcohol and I like to mess with nouns as verbs.

as cold sweat
Coronas to the pits
of my nightgown (end poem with these lines...cut the last as Pat suggested)
from Mexico? I have limited knowledge about all that. But, I think it works! I like it as a verb. Playful too. Your voice all over the place. Good work. Pat



Posts

: 356


Join date

: 2012-01-05


Age

: 87


Location

: Central Point, OR

I like the last two lines... they release me from the tension... Yea! Corona or Pacificia? (In Cancun they told me they make Corona for Gringos & Pacifica for the natives.) Even the colors of green, red, fire, etc add power/tension to this piece. Good work. Dewell